What I remember after that is just pure, pre-teen fan fun at its best. Kathy and I bought every teen magazine the second they hit the stands. We wallpapered our rooms with the pin-ups. When our mothers had had enough of that we started filling scrapbooks with the pictures. We discovered how much fun that the original stories by Franklin W. Dixon were, once we could plug Parker and Shaun into the roles, and we devoured those. We would tape record every episode (holding the little microphone in front of the TV for an hour) and play the cassettes over and over again until we could recite every line of that show. I also remember that a few sleepovers were spent planning our weddings until the middle of the night.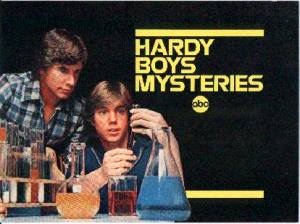 Of course we couldn't have been more thrilled when Shaun's first album was released that year. Although I had no romantic notions about Kathy's man (ha ha) I did, and still do, enjoy Shaun's music. And then there was our fan fiction - although that term wasn't used in 1977 - we simply called it our "stories". In our fantasy world, (older versions of) Cheryl and Kathy dated brothers, Parker and Shaun Hardy. We borrowed heavily from the show (Fenton and Aunt Gertrude were regular characters) and we solved mysteries along with the guys. We also traveled extensively, (I remember more than one trip on the Love Boat) and had wacky adventure after wacky adventure. Like I said - Pure fun.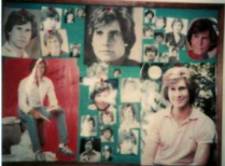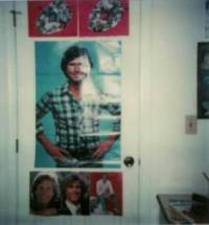 Pictures of my bedroom - just a small sample of the number of pictures that I had of Parker.
September of 1977 brought the start of 7th grade and the second season of The Hardy Boys. Although we liked the new, more exciting plots this season, I remember being less than thrilled at the number of girls that Parker kissed!
The fun, however, was about to end. At the end of 7th grade, I received just about the worst possible news that a 13 year old girl could get - My best friend was moving. Kathy's father had been transferred and she and her family moved to New York in the summer of 1978. I never saw her again.
The third season premiered that fall with The Last Kiss of Summer episode - A favorite of Shaun fans . I remember watching that, alone, and being very sad. Although I've watched the episode as an adult, and enjoy it now, it depressed the hell out of me at the time. Maybe it was that I was watching it without someone to call and talk about the show with afterward (none of my other friends really watched the show). Maybe it was the new turn the show had taken - from small town detectives to federal agents. Whatever it was, it wasn't the same, and I didn't watch too many episodes of the last season.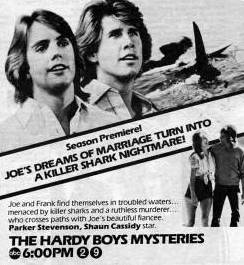 Not that I stayed sad for too long. I made new friends, became a lot closer to the ones that I had (without a "best friend" I had more time) and was enjoying myself again soon. Somewhere in the middle of 8th grade, with high school on the horizon and other priorities to worry about, I decided that it was probably time to move on. The Parker pictures were taken down and packed away, along with that part of my childhood. Later my love for music would replace my love for 70's TV shows -with pictures of Mick Jagger and Roger Daltrey hanging where Parker once had. Money that once went to teen magazines and posters now paid for albums and concert tickets. Real boyfriends would replace my fictional one. I was growing up.
What followed is what you would expect - high school, college, working, meeting my husband and getting married. While I did watch the first few episodes of Baywatch and was a fan of Melrose Place, I didn't have much time for TV. I missed most of Parker's projects throughout the 80's and 90's.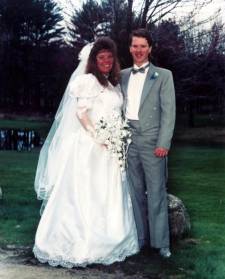 Cheryl and Paul - 1988.
Fast forward to 2000 - While looking for a video on Amazon.com, I was thrilled to see that some of The Hardy Boys episodes were available for purchase. Immediately I ordered all of them and had an absolute blast watching the show! I began surfing the web, looking for Parker sites, and couldn't believe that there was almost nothing about him. Here was a man that, at one time, had received thousands of fan letters a week, and the only sites that I could find with any Parker content were mostly negative and focused on his divorce. I had also recently discovered that my parents still had my boxes of Parker photos and scrapbooks, so I decided to put this site together. I bought a scanner, learned how to write some (very) basic HTML, and "the first web site dedicated exclusively to Parker Stevenson" was up.
When the traffic started to pick up the e-mails started coming in. One of the first that I received was from a woman who wrote "I was on the internet, helping my daughter with a project, and came across your site. I used to love this guy!" Others told me about their teenage crushes. Almost everyone that I've heard from has been super nice, and I've met some terrific people. Janet, Karen, Karl and Sarah are just a few of the great folks that I've gotten to know through this site. After a few months I decided to change the theme and focus on Parker's whole career instead of just the teen idol years. I watched and/or rented everything that I could find. While certainly not his best movie, I have to admit that Are You Lonesome Tonight is one of my favorites. I loved his character, and oh my God, he looked so good! Parker's acting has improved over the years - in my opinion Avalon and Trapped are two of his best performances.
But The Hardy Boys will always be my favorite, because that was one of the sweetest times of my life. As ridiculous as it may seem for a 12-year-old girl to think that she is actually "in love" with an older TV star that she doesn't know - Try telling that to the 12-year-old girl. As any of us who have been there can tell you, it was very real at the time. Parker, without knowing it, helped to make that time of my life such a nice place to be. This site is my tribute - my way of saying thank you.
HOME